5 Customized Emergency Kits to Weather Any Disaster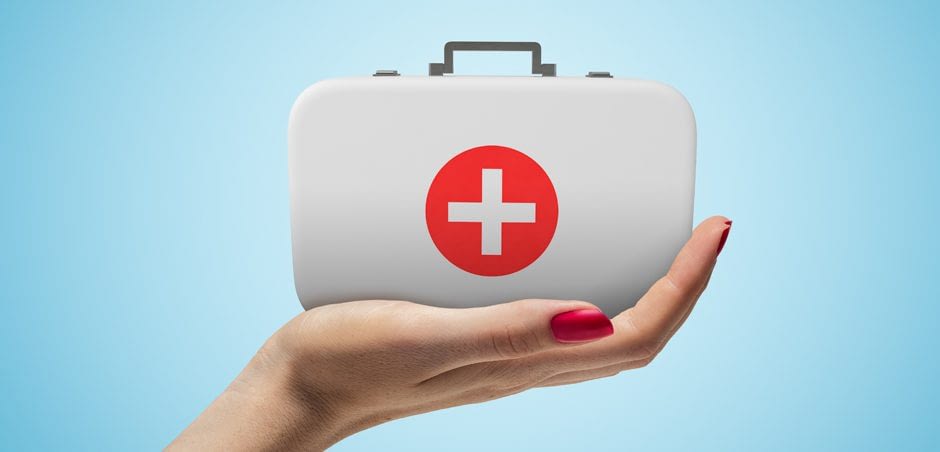 Emergency Kit for Power Outages
When the power goes out, immediate concerns involve food and safety. (Read more about how to manage a power outage.) If a power outage is two hours or less, don't worry about losing your perishable foods; an unopened fridge will keep foods cold for about four hours. Here are some helpful things to have on hand:
Inexpensive Styrofoam coolers preserve food when packed with ice.
Digital quick-response thermometers check your foods' internal temperatures to ensure they remained cold enough to consume.
Generators are especially essential if you live with someone who depends on electric-powered, life-sustaining equipment. (Read our list of 9 things to know if you have a backup generator.)
Flashlights provide safety by guiding you through a dark house and preventing fires from candles.
Emergency Kits for Winter Storms
During a nasty winter storm, staying warm and safe take priority. Make sure you have these safety items:
Sand, rock salt or non-clumping cat litter make walkways and steps less slippery.
Warm coats, gloves, mittens, hats, boots, extra blankets and warm clothing are essential for all household members.
Fireplaces or wood- or coal-burning stoves provide necessary alternative heat. Pro tip: No matter which heating source you use, keep a smoke detector, a carbon monoxide detector and a fire extinguisher in the same room it's in. Read more in our guide to safe home heating.
Emergency Kits for Hurricanes and Floods
Hurricanes and floods often mean evacuation. Have these additional items on hand so you're ready to hit the road if needed:
Tools and supplies for securing your home.
Emergency blanket(s), extra clothing, hats, sturdy shoes and rain gear will help protect your family from extreme weather elements.
Insect repellent and sunscreen can come in handy if you are unable to be sheltered.
Map(s) of the area help you navigate out of the area, especially if cell service is unavailable.
Extra set of car keys and house keys can be used in case one set is lost while evacuating or if you and other household members split up.
Camera for photos of damage.
If you're safe enough to weather the storm but under a hurricane or flood watch, here's how to prepare.
Fill plastic bottles you have on-hand with clean water for drinking. Learn more about how to store drinking water during a natural disaster.
Fill bathtubs and sinks with water to keep your household running. Never drink or bathe young children in this sitting water because lead can leak from the glaze in bathtubs and sinks into water stored in them. Use this water to clean floors, do laundry and flush the toilet.
Fill your car with gas, in case you need to evacuate later.
Make sure your food and water are safe if flooding occurs. Flood water can be contaminated with waste or other contaminants that lead to illness. Discard food and beverage products and anything you use to eat and drink that have contacted flood water (even if it's only a little bit), including canned goods, water bottles, plastic utensils and baby bottle nipples. The Red Cross says: "When in doubt, throw it out!"
Emergency Preparation for Tornadoes
Tornadoes can form quickly. While your basic emergency kit covers your basic needs, it's also important to take these major steps well in advance to stay protected:
Strengthen existing garage doors to improve the wind resistance, particularly double-wide garage doors.
Decide on a safe space within your home where everyone knows to meet when tornado watches or warnings appear. Basements are the best place to shelter. Your next safest option is the lowest lying level of a sound structure in a hallway or an area without windows. According to the American Red Cross, mobile homes are never safe during tornadoes. It is best to safely get to a sturdy shelter immediately.
Always wear a seatbelt if you must drive your car during a tornado and toward safety.
Emergency Kit for Wildfires
In wildfire-prone areas, experts recommend having supplies to stay at home for up to two weeks. However, if you have to evacuate, it's recommended to have three days' worth of supplies on hand – so make sure it's portable if authorities say you have to move now. Beyond your basic kits, here are some tips to prep for wildfires in the long term:
Portable air cleaners work best when run continuously with doors and windows closed.
Water sources outside your home, such as a small pond, cistern, well or swimming pool should be identified and maintained, so they can be easily accessed if needed to fight flames.
Gather tools like a rake, ax, hand saw or chain saw, bucket and shovel that you can use as fire tools before emergency responders arrive.
Regularly clean roofs and gutters. Dry, loose debris can spell trouble if sparks fly. See what else can happen if you don't clean your gutters.
Keep a long garden hose that can reach all areas of your home and other structures on the property.
Install outdoor outlets on at least two sides of your home and near other structures on the property. Make sure they are freeze-proof exterior water outlets. In addition, you may want to install outlets 50 feet away from your home for more electricity accessibility.
Clearly mark your house number or address where fire vehicles need to enter your property.
Printable Checklist for Disaster Preparedness
Want a handy printable? Check out these PDF checklists from the American Red Cross for the following disasters: power outages, winter storms, hurricanes, floods, tornadoes and wildfires.
Looking After You
Emergency situations can be stressful, but you can feel confident knowing you're prepared with the right tools on hand. When you're with ERIE, you can rest easy knowing that your local agent is here to provide a little kindness on even the most difficult day.
For more than 95 years, we've been committed to providing claims service that comes from actual people, with empathy, in real-time. Depending on the size of the storm or weather situation, ERIE will deploy our Catastrophe Team to the scene to help service our customers who have claims. A helping hand and friendly face are a phone call (or walk to the CAT van) away.
Learn more about homeowners insurance or auto insurance from ERIE and experience the difference for yourself.
The Centers for Disease Control and Prevention reports that 48% of Americans do not have emergency kit supplies.
Building a basic emergency kit for evacuations or stay-at-home orders will help to keep your family safe. (Having the right homeowners insurance helps give you peace of mind, too.)
You might already know the basic 31 items that should be in every home emergency kit. But when it comes to survival kits, one size doesn't fit all. Here are five different ways to personalize yours so you're prepared for whatever weather flies your way.