Top 5 Illinois RV Campsites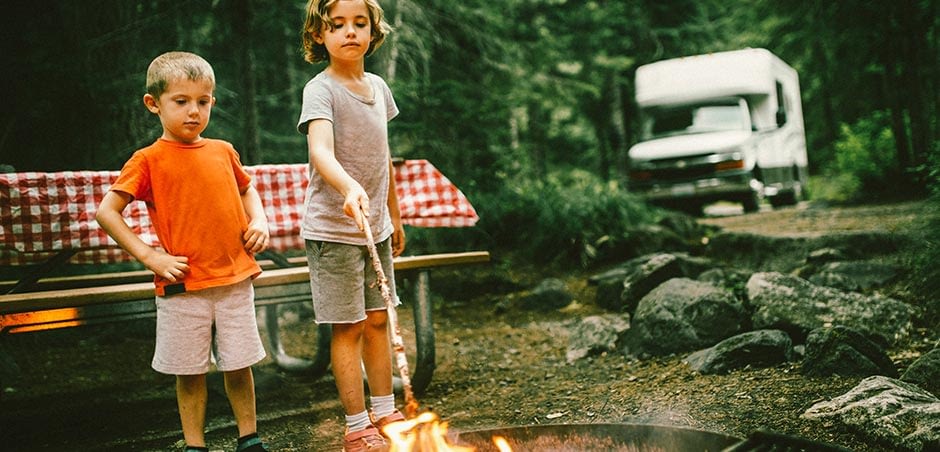 The idea of an RV camping trip can have you daydreaming for days. Can you already smell the musky smoke and pine needles from a late-night campfire? Taste the charred burgers? Feel the rush of pride when you catch more fish than Uncle Todd?
No matter what your ideal camping trip looks like, Illinois is a great state to make it happen. To ease your planning process, we have built a list of our top five RV campsites in Illinois, including both parks and resorts.
Before you load up the RV, make sure you have the right auto insurance to protect the vehicle that makes it all possible.
Adeline Jay Geo-Karis Illinois Beach State Park
Adeline Jay Geo-Karis Illinois Beach State Park is 4,160 acres of sandy shore, spongy marshes, oak forests and a wide variety of animal life and vegetation. The beach spans the breezy shore of Lake Michigan in Northern Illinois and is the only remaining beach ridge shoreline left in the state. You won't want to miss out on a late-night swim or fishing extravaganza at this sandy paradise.
The park's campground, located in the southern unit of the beach, offers Class A Premium sites with electricity and well-kept facilities. Be sure to book your campsite early because reservations fill up fast and are available up to 180 days in advance.
Recreational park activities include hiking and biking trails and walking and jogging along the beach. You can also head to the nearby North Point Marian which features 1,500 slips and an 18-hole golf-course. Also nearby, you will find the popular Six Flags theme park, Temple Farms and Gurnee Mills outlet mall.
Mississippi Palisades State Park: Savanna
There is no shortage of outdoor adventure at Mississippi Palisades State Park. Are you ready to wander the bluffs that overlook the roaring waters of the Mississippi? Or cross-country ski across the winding winter trails? No matter the season, you will be captivated by the natural beauty of the park's steep cliffs, wooded ravines, limestone caves, and abundant wildlife.
As you follow the flower-filled trails of the park, you will be tracing the footsteps of Native American pathfinders. It's no wonder that in 1973, the U.S Interior Department designated this landscape a national landmark for its rich history and remarkable nature.
Electrical hook-ups are available at 110 of the 241 camping sites. But you don't need electrical hookup when you can spend your camp days fishing, boating, hunting, picnicking or rock climbing to your heart's content. Also, keep your eyes peeled for white-tailed deer, mink, gray and red fox, woodchuck and other wildlife.
Archway RV Park
Archway RV Park is all about family. Owned and operated by a family, this park welcomes guests and their pets with open arms and friendly smiles.
Your kids will love the large playground and your dog will be ecstatic to join you on the dog run and exercise field. Then, if you want to keep the memories piling up and photo opportunities coming, check out the fishing pond. The pond is catch and release, giving everyone the chance to join the fun.
Archway's 42 RV sites include full hook ups and pull-through and back-in sites. No need to worry about the basics because the campsite's wide array of amenities will take care of everything from laundry to outdoor RV storage.
The park is also located near a Walmart Super Center, Subway sub shop and gas stations.
Pleasant Creek Campground
Simply stunning: Pleasant Creek Campground is home to lush canyons, forests, rivers, and hiking trails. The campsite is nestled in the heart of Illinois Valley along a tributary of the Vermillion River. Amenities and activities include an arcade, fishing pond, tether ball and volleyball court and more!
Just minutes away you will find a wide array of local activities. Enjoy nature's majestic scenery from new heights by skydiving or zip lining. If heights aren't your forte, try river rafting, wine-tasting, racecar driving, or splashing through the indoor water park. While you're exploring the local area, put Starved Rock on your list of must-sees. This state park is only 5 miles away from Pleasant Creek and it is home to breathtaking waterfalls and canyons.
Sycamore RV Resort
Grab your swimsuits and lakeside energy—Sycamore RV Resort is surrounded by 30 acres of lakes! Since 1986, this lakeside campground has been a refreshing getaway for peace-seeking nature lovers and water sports enthusiasts alike. Spend your days relaxing at the swimming beach, exploring the waters via paddle boat or fishing in the two spring-fed lakes.
The entertainment continues with seasonal events occurring locally each year. You won't want to miss the Sycamore "Turning Back Time" Classic Car Show in July or the Sycamore's Annual Pumpkin Festival in October.
No matter the time of year, you will love the city of Chicago. It's home to vibrant nightlife, shopping, theaters, and dining—and only 60 miles from the resort.
Sycamore Resort also takes care of the little things to make your stay that much better. There is a supplies store, hot showers, Wi-Fi, and sanitary laundry facilities.
Get a Quote for RV Insurance
Camping is a fun way to connect with nature and your loved ones. See how RV insurance from ERIE can help ensure your camping fun continues by protecting your investment and keeping you safe.
Plus, if you add your RV or travel trailer to your ERIE auto policy you get the convenience of using one insurance company and dealing with just one bill. You may even be eligible for extra discounts. To make sure you get the coverage you need, talk to your local ERIE agent for details.