What You Should Know About Common Household Poisons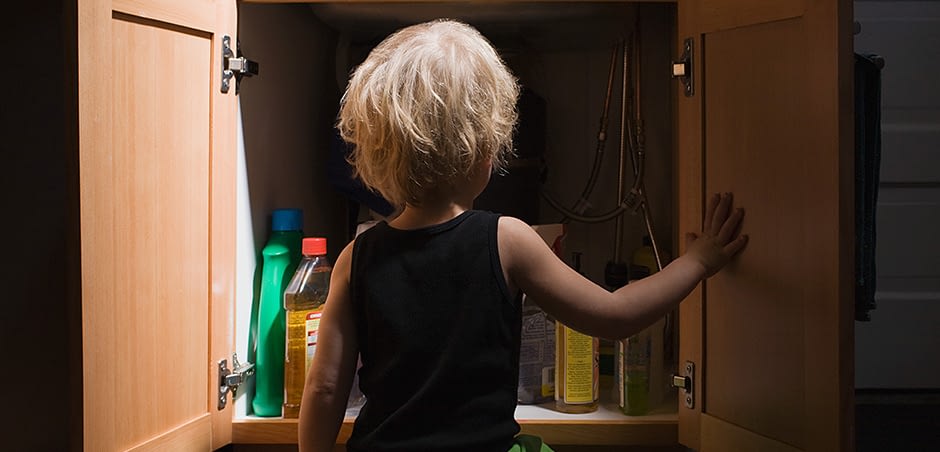 Each year, more than 2 million poisonings are reported to poison control centers across America. And according to the U.S. Health Resources & Services Administration (HRSA), more than 90% of those poisonings occur at home.
To help you identify any potential poison risks in your home – and know what to do if a poisoning occurs – here's what you should know about common household poisons.
Why should I be aware of household poisons?
The average home contains dozens of chemical products, from medicine and cleaning products to insect repellent and spray paint.
When these products are used as intended, they can make our lives better and easier. But when they're used in the wrong way, by the wrong person, or in the wrong amount, they can lead to an accidental poisoning.
How can a chemical or medicine poison you?
Poisonings often occur when you don't expect it. According to the HRSA, there are four primary ways people can be accidentally poisoned:
A poison is swallowed.
A poison is splashed in the eyes.
A poison comes in contact with the skin.
A poison is breathed in or inhaled.
What are some common household poisons?
Here is a list of some products you might have in your home that could be harmful if ingested improperly:
Chemical-based cleaning products
Over-the-counter and prescription medications
Vitamins and food supplements
Beauty products, such as perfumes, hairspray and nail polish remover
Carbon monoxide gas created by cars or heating devices, like a gas stove or furnace
Lawn products, including pesticides, herbicides, insecticides and fertilizer
Automotive fluids, such as antifreeze, windshield washer fluid or motor oil
Alcohol and tobacco products
How can I prevent poisoning?
Knowing what substances in your home can cause harm is important… especially if you have little ones. According to the HRSA, 45% of all poison exposures involve children under the age of 6.
Here are some tips to prevent accidents from household poisons:
Always keep chemical products and medications in their original containers.
Never take medications in the dark and avoid leaving containers open – even to answer a quick phone call.
Make sure you have carbon monoxide alarms installed in your home.
Save the poison helpline as a contact in your phone so you have it in case of an emergency. The toll-free number is 1-800-222-1222.
Poison-proof your home by keeping cleaning products, medications and other chemicals locked up and out of sight.
How can I poison-proof my home?
Since the vast majority of poison accidents happen at home, it's important to take proper precautions to keep you and your family safe. Here are some tips from the HRSA on how to identify poison risks in each room of your house.
Kitchen: Avoid using harsh commercial cleaning products on your food and be sure food items are stored at the proper temperature. Use child-proof cabinet locks to keep young children away from areas where they could access cleaning chemicals – like under the kitchen sink. And if you have a gas range, always make sure it's off when not in use.
Bedroom: Carbon monoxide can represent a real danger when you sleep, so be sure to install a carbon monoxide detector near bedrooms and your home's furnace. Keep hand sanitizer out of reach from small children. And if you have pets or small children, make sure any houseplants you buy are non-toxic. Some plants, like lilies and ivy, can be toxic if touched or eaten.
Garage: Carbon monoxide can be a threat in the garage, too. Never let your car idle without the garage door open. And keep any chemicals – as well as paint, antifreeze, oil and gasoline – out of the reach of children. (Read our related story on quick tips to organize your garage.)
Bathroom: Since about half of all poison exposures involve medications and pharmaceuticals, be sure to keep your medicines locked up and away from children. Buy medications with child-resistant caps and always keep them in their original container. (Read our related story on how to baby-proof your home.)
What should I do if someone has been poisoned?
If you suspect someone in your home has come in contact with a poison, it's important to get help right away. If the person has trouble breathing or has lost consciousness, you should call 911 immediately. Do your best to stay calm, and relay all the information you have to the dispatcher so they can send help quickly.
If the situation doesn't appear to be immediately life threatening, you can call the poison helpline at 1-800-222-1222. This phone number will connect you to your local poison center, which provides access to a team of nurses, pharmacists and toxicologists – free of charge.
Be sure to give as much information to the poison helpline as possible, including:
The name of the product or substance
Age and weight of the victim
Amount of poison involved
Then, the expert at the poison control center will give you the advice you need. And here's a comforting fact: According to HRSA data, two-thirds of calls to the poison help line are controlled right where they occur – meaning most calls can be handled at home.
For more information and resources related to household poisons, you can also visit poisonhelp.hrsa.gov.
Is your home protected?
Home is where you can rest easy, knowing your family is safe and secure. With Erie Insurance on your side, you can take comfort and enjoy the serenity that is home. To learn more about homeowners insurance from ERIE, or to get a no-obligation quote, find a local insurance agent near you.